Air Incu i
The Air Incu i has been developed to provide a "womb-like" environment for premature and preterm infants all over the world.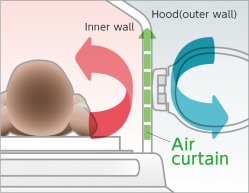 Air curtain

■

An air curtain, designed as a standard inclusion

in the Air Incu i, minimizes temperature loss

when a snap-open access port is opened.
Low noise

■

Noise Levels in the incubator are kept to

45dB, reducing stress levels in Neonates.




* The AAP recommends that sound levels be kept lower than 45dB in

NICUs and infant incubators.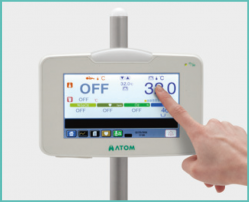 Antimicrobial panel screen

■

The use of an antimicrobial panel keeps

frequently touched surfaces clean.
Hood disassembly

■

The hood can be disassembled without any

tools being required.

Should any part of the hood be broken or

damaged, the part can be replaced individually,

which helps to reduce maintenance costs.

Maintenance and cleaning/disinfection

efficiency has improved.
| Atom's code | Description |
| --- | --- |
| 62060 | w/ humidity controller AC120V±10% |
| 62061 | w/o humidity controller AC120V±10% |
| 62062 | w/ humidity controller AC230V±10% |
| 62063 | w/o humidity controller AC230V±10% |




(add-on)

| Atom's code | Description |
| --- | --- |
| 62070 | O2 Controller Unit for Air |
| 62071 | Weight Monitor Unit for Air |
| 61621 | SpO2 Unit (Masimo) |
| 61622 | SpO2 Unit (Nellcor) |

Power
requirements
Main body : Customer specified
HL Stand : Customer specified
Power
consumption
Main body : 600VA
HL Stand : 120VA
Dimensions
Main body (w/ HL Stand) : 1015(W)x665(D)x1465-1665(H)mm
Mattress surface : 860-1060mm (w/ weight monitor : 880-1080mm)
Main body (w/ Cabinet Stand) : 1015(W)x565(D)x1570(H)mm
Mattress surface : 965mm (w/ weight monitor : 985mm)
External display : 220(W)x50(D)x140(T)mm
Mattress : 650(W)x365(D)x20(T)mm
Weight
Main body : Approx. 47kg
HL stand : Approx. 35kg
Cabinet stand : Approx. 30kg